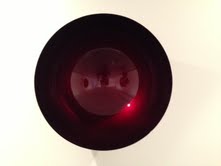 Finally had the opportunity to Visit the Anish Kapoor Show at the MCA, the last days posters were up so I knew I had to make it and of course, I wasn't disappointed. As a lighting designer the way we see is a cornerstone to the way we approach lighting design. Kapoor intrigues you with his investigations into our optic system, repeatedly confusing your eye/brain link. The viewer constantly asking themselves, (often unconsciously) "how is it so?"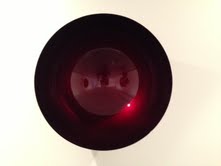 The convex coloured discs reflect back the clean gallery walls &
floor. Your eyes/brain struggle to find an edge. Edges give meaning
and perspective to your world. Without edges you see nothing you
can't comprehend anything. So you see the reflections of the walls
and floor as a flat mirror, an additional plane to the curved
artwork, when you know there is in fact none. Your brain tries so
hard to make sense if it that you even believe you can even see the
shadow the imagined internal disc creates. (See image)
Your brain is having so much difficulty in trying to recognise or process what
you're seeing you suffer a sense of "mal de mer" or nausea. Again &
again you have to move around to the side of the artwork to check
to see if it is mounted flush to the wall or as your eyes/brain would have it off the wall.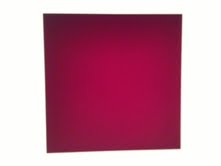 Your Brain tells you it's hanging off the wall maybe it's right. In fact the art work is an artfully painted hole in the wall.
"Memory" is maybe his most famous work, a giant bomb shaped tank.
Holding onto everything. Taking all the space, rigid never blinking You can look into its interior via another gallery space . It just slowly fades into darkness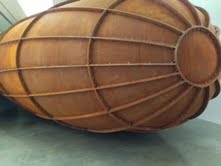 Although fascinating and enjoyable I had the slightly unnerving feeling that is somehow akin to a carny sideshow or magician's act. Where its too clever by half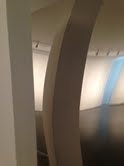 But its impossible to ignore how Kapoor can connect with a wide ranging audience. And good luck to him. 4 out of 5 light globes