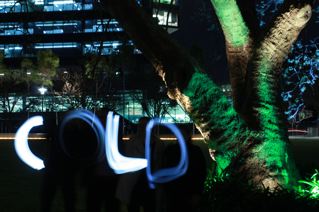 Parklight, held in late August, was the 4th exterior lighting event organized by the NSW IES lighting society and the first to be run in conjunction with Sydney University's Department of Illumination. It assembled together over 50 eager participants; lighting designers, architects, students and lighting suppliers to meet, discuss and experiment with lighting techniques and the equipment used in exterior lighting. Electrolight lighting designer and event organiser Ryan Shamier described the event as "a wonderful excuse for suppliers and designers to collaborate and share ideas"
The theme of this years event was 'winter wonderland".
Participants were fashioned into 6 groups: ice, blizzard, snow, frost, chill & cold, provided with a range of exterior luminaires, then allocated a predetermined location around the Gadigal Green at Sydney University.
Their challenge was to improvise and problem solve within their group, using the donated equipment to design and light a winter themed tableau.
Groups went off on their task and quickly dissected the opportunities that different luminaires provided. This hands on approach allowed participants to use the luminaires in a range of settings and applications, exploring each lamp's potential and the effects of colour, beam angles and reflector types.
Judging was conducted by a show of hands, with all attendees casting their vote for their favourite lighting design.
Versalux
Zumtobel
With a very special thank you to Wendy Davis and the University of Sydney (Faculty of Architecture) for hosting the event.
.