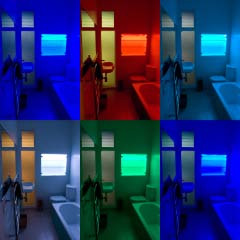 Project:
Residential Interior Bathroom Fitout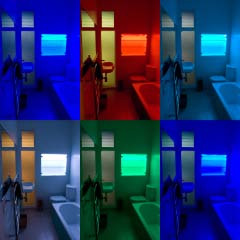 Our latest residential interior is a contempory bathroom renovation in Sydney. A complete modernisation was called for.
As with everything new in architecture the client asked for more natural light. By determining the daylight factor of the existing windows it was calculated that there would be an increase of daylight available with a floor to ceiling aperture.
Rather than filling the remaining window aperture it was decided to fill it with a remotely switched light box. Constructed wth the same glass as the exterior window, the cabinet is fitted with a waterproof RGB LED strip controlled by a movement detector above the entry.
As you enter the bathroom the light switches on automatically, flooding the room with soft colored light, great for young children using the bathroom late at night. Glass shelves allow light to reflect back off the floor of the cabinet.
The end result is a bathroom that can be lit for any mood.
In this bathroom interior the lighting design combines LED down lights, lighting horizontal surfaces, with an RGB LED hidden in a glass cabinet and activated by a remote movement detector for general ambience. This luminaire then fills the white tiled bathroom with washes of colour. The strip LED is activated remotely and can be controlled by a hand held remote, any RGB colour mix can be achieved.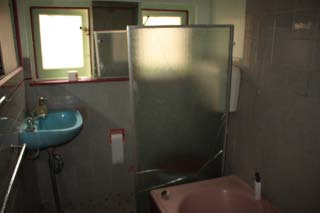 This picture gives an indication of the primary colour washes available
The pre-renovation bathroom indicating how the window aperature was enlarged and second window remodelled into an light box.